Charity begins at home.
Nicolas Palthey is following in the steps of his sister Alexandra ... all the way to Haiti. In 2011, as part of a volunteer project at school, Alexandra chose to go to Haiti for three weeks and help put a roof on the Saint Pius X School in Ducis. The 17-year-old set up an
association loi de 1901
,
Nourrir Les Enfants Haiti
, and raised €2500. (See Reporter 144).
The latest scoop chez les Palthey, is now that the roof has been fixed, the next priority is clean drinking water. This is exactly where younger brother Nicolas, 16, comes in.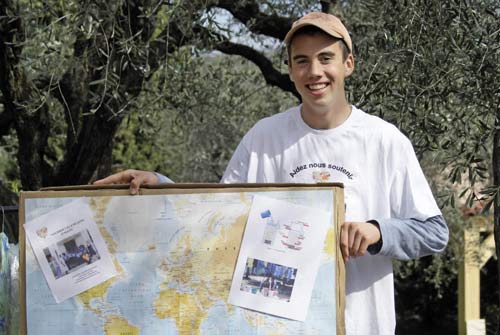 "Nico" goes to the IBS in Provence and for his school project is designing a Biological Water Filter for the same school in Haiti, which has 420 students, and no drinking water. This filter uses all natural materials and can be installed within the convent walls next to the infirmary and the school. There exists an underground water source that is not safe, and filtering this precious water would allow these school children to have access to clean drinking water.
Nico's trip to Haiti is June 14th 2013 and his goal is to raise €5000 to help build the water filter. He already raised €1630 for building materials with a vide grenier. He fixed up toys, cleaned up old objects and clothes that were donated; people gave small change without buying anything. His follow up
Nourrir Les Enfants Haiti
fundraiser was April 21st in Valbonne. Every euro made will go directly to Haiti. Nico will have a lot of balloons around his stand and a picture board (above) showing the school children and how his plan can help them survive. He really feels he can make a difference by saving lives.
For donations (tax deductible), contact
This email address is being protected from spambots. You need JavaScript enabled to view it.