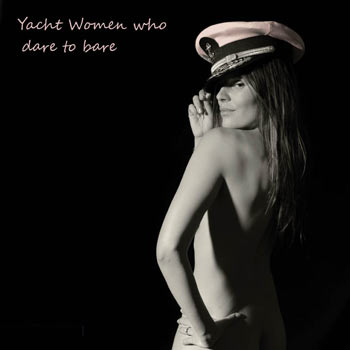 All great ideas are born over food and friends. And so it was in February of this year when photographer Linda Alaniz was lunching in Antibes with gal pal Lisa Mancino and a mate of hers, Linda "Loopy" Gardhage, both of whom worked in the yachting industry. The conversation turned to Linda Loopy's fast approaching 40th birthday and, as two of her closest friends had been diagnosed with cancer, she wanted to host a charity birthday and somehow tie in a auction to raise funds for cancer research.
Linda Alaniz had produced the Biot
pompiers
2012 calendar – a series of photos of unclothed firemen – and upon seeing her work, Linda Loopy had an inspiration to do the same thing but with a twist: Yacht Women Who Dare To Bare.
Finding models was no problem. Twelve women aged 28 to 50 who have, for the most part, known each other for a long time were willing to "put their modesty aside" in the name of charity. The pressure was the deadline, to launch the calendar at Linda Loopy's birthday party in April.
But taking off your clothes takes on a whole new meaning when there's a camera pointed at you. And so, unsurprisingly, when the moment came to ditch the attire and bare all, some of the ladies were somewhat apprehensive. A tipple in a couple of cases was needed to tackle their inhibitions.
"Be sure not to show my nipples" ... "My fiancé will kill me"… "Can you make my legs look longer …"
Just why is it that we are conditioned to judge every detail of our body so critically? We can't just be the product of a Photoshop culture, which promotes unblemished skin and fat-free bodies. A finger could be pointed at society and the use of unnaturally thin half-naked women to sell any kind of product from toothpaste to coffee, or at the fashion industry, women's magazines and the media which all seem to endorse one standard of female beauty: flawless.
Is it any wonder then, as the
Daily Mail
reported last month, that "a quarter of women wear make-up to bed to stay looking their best for their partner"?
This is a stark contrast with the findings of a French survey published in 2012 by Dr Philippe Brenot: of the more than 3400 French heterosexual women questioned, 60% labelled themselves good looking, 67% sensual and 74% said they felt desired and easily aroused.
In a country where people have a more open mind to nudity than, say, the British or Americans (France was voted the best naturist resort in 2008), there seems to be a link to a higher sense of self-esteem. You don't have to look further than our public beaches or local sport gyms to see that French women of all shapes and sizes are much more comfortable in their own skin and exude a healthy dose of confidence.
So how could posing for a nude portrait liberate your hang-ups? For most women, posing naked in front of a stranger and having your picture taken is not a normal occurrence. It takes courage. But once the photographer starts clicking away, suggesting this or that pose while reassuring how gorgeous you look, eventually you, the model, will start to believe it from within. That is the magic of the nude. Then, when you see the photos, they provide you with a new way to see yourself, often the start for a much-needed truce with your body: accepting you as you are fosters a real sense of pride and self-esteem. (Remember, though, that nude photos are for you and not attachments to be shared by text messaging or email – not even to your partner).
Nowadays women of all dimensions pose for nude portraits not only as a present for their partners but also as a morale-boosting gift for themselves. As Linda Alaniz, in her fifties, pointed out: "My goal is to make females feel beautiful, to celebrate their individuality."
We spoke with Leila Nafa (left), who runs Crew Eyewear (
www.creweyewear.com
), an Antibes-based company that sells top-end certified UV protected sunglasses that are customised with yacht logos and worn by crew or given to guests onboard (and only €80 a pop). Leila, 36, only became involved at the last minute.
"The night before the shoot, I got a call telling me one of the other girls had to pull out and asked if I would fill in," she explains. "Truthfully, I was a little dubious but on Sunday at the shoot, Linda showed me photos of some of the girls and they were so beautiful and flattering that it put my mind at ease. For the most part there's a lot of waiting around with adjustments and lighting, but Linda was very motherly, very caring and I didn't want to waste her time so I tried to be professional.
"This was an incredibly empowering experience, and there's nothing garish about it. We all have lumps and bumps that we are paranoid about but we are healthy so we did this for those women who don't have the luxury of being healthy. What more of a reason do we need to embrace our bodies?"
With a print run of 4000, the Yacht Women Who Dare To Bare calendar launched 20 April 2013 at the Antibes Yacht Show. Signed copies were auctioned off for up to €650, and to date they've raised €12,000 for the Worldwide Cancer Research Fund. The calendars (
https://www.facebook.com/WomenWhoDareToBare
) sell for €20 each and can be found in local English shops like Heidi's in Antibes or Brittain's in Valbonne and the next big push will be at the Monaco Yacht Show (Sept 25th-28th). Alternatively contact Leila (06 21 01 94 26
This email address is being protected from spambots. You need JavaScript enabled to view it.
) and she will deliver a copy to you within a week anywhere from Monaco to Cannes, or organise a mailing.
And if after reading this, you're ready to step up to the lens, see
www.alaniz-photo.com
Nathalie Giraud has been a sex therapist and relationship coach for ten years with an office on the Riviera and a shared practice in Paris. She's frequently interviewed for TV, radio and magazine media.