Chris Burgess lost his home in last year's Var fires. Together with his wife Geneviève he talks his way through the experience with Patrick Middleton.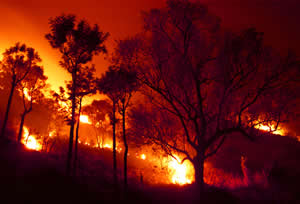 "In a way, I suppose, it shouldn't have been a surprise," admits Chris. "I first came here from Devon - I'm a Bideford man - with a rock band back in 1966. I met Geneviève who's from an old varois family and she told me about the forest fires. Anyway, we got married in 1969 and then for thirteen years we divided our time between here and Windsor. In 1982 my father-in-law died and we decided to take over the family's beach restaurant. A few years ago we realised that erosion was eating up the beach and so we moved to our new site - also bang on the sea - on RN 98 at Les Issambres."
"Someting absolutely terrifying..."

"As Chris says," puts in Geneviève, "fire isn't a surprise around here. I remember when I was a little girl you got them almost every year. But even when they're very bad you always think that it won't happen to you. You may remember that last year there were two major fires here. The first was on July 18th and we escaped any damage. We felt relieved but not for long. Ten days later there was another fire and this time we weren't so lucky." "You start to get worried," recalls Chris, "when blazing embers start to fall on you and you realise that the wind is blowing in the wrong direction. We started to feel very anxious around five o'clock in the afternoon and quite frankly scared as time went on. I'm not at all ashamed to say that. A biggish forest fire is something absolutely terrifying - the roar, the crackle, that acrid smell." "Things moved fast," says Geneviève. "We were over at the restaurant - just a few minutes away - but when we rushed to the house we weren't allowed in. We had to watch it go up in flames. We lost everything except an earthenware Madonna and Child I'd made at pottery class years ago. Must've been heat resistant."

Meanwhile the Burgess's neighbours were taking refuge in the restaurant. "We had space, of course, but we lost power so conditions became quite rough. People bedded down on the floor and we fed and watered them." Was there a lot of community solidarity like that? "There was, yes," confirms Chris. "We benefited from it ourselves, of course. When our house went up we got offers of accommodation from several people and, indeed, we're living now in someone's second home while we're rebuilding. I have to say that the British Association here were very good. They really rallied round. I remember they looked after the relatives of that old lady from Manchester and her granddaughter who died in the fire. People were usually very grateful but I have to say that a few of those we assisted with hospitality seemed to take it for granted and never got their tongues around a few words of thanks."

When the fire was more or less under control and they could take stock of the situation how did they feel? "A mixture of feelings," explains Geneviève. "In one way, it's hard to believe that your home is just not there any more and that you've lost all the things you've collected over the years - photographs, letters, videos and these days computer disks as well. It's almost like losing your memory." "And then," takes up Chris, "you move into resignation mode. You can't mope for weeks. We had a business to keep going and we needed a home. You also think of things you ought to have done and didn't and that means I've got quite a bit of advice for potential victims."
"Organisation poor"
Do the Burgesses feel any bitterness? Chris shakes his head. "Pointless. We don't feel altogether happy, though, about the way the fire fighting was handled. Of course, the guys on the ground do a very good job as far as they can. But the organisation is poor, as we witnessed it. In the old days the operation was controlled by local mayors in conjunction with the fire brigade and the local gendarmerie. Now everything's run from the prefecture and that, as one mayor put it, 'doesn't make for efficiency'. And there's something else. In fire-risk areas across the world, there's been a determined effort to introduce fire-breaks. That involves cutting down trees but it saves many more. In this region that's been blocked by the Greens but they don't seem to have thought the matter through.
The day I had lunch with Chris and Geneviève they received final planning permission for their new house on the same site. Any hesitations? "Not at all," Geneviève assured me. "The old walls have gone but this place is full of memories for us and our children. And we've learned a lot of lessons. We'll be much better prepared for the fire next time.

From Reporter Issue 102