On Sunday 19 August sixteen volunteers joined "Renouer avec la Cueillette", to harvest 100 Kg of lavender in Gourdon in a new back-to-nature initiative to create employment and avoid waste.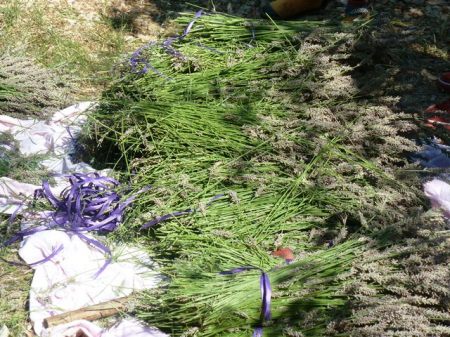 This was the endeavour of voluntary project leader
 Sophie Allain, 47, a
violinist
from Grasse. Her principle 
is simple: In our region a lot of fruit and natural produce 
is wasted in people's gardens because they don't have the 
time or are unable to pick it.
It made me feel sick to see all that natural produce
 going to waste,'' Mrs Allain explained. "So I had the idea 
of proposing to do the work for the owners in exchange for their harvest.''
A mutual friend introduced her to Claude Benassi, Director of Renouer, a not-for-profit company providing services, and her project quickly bore fruit. Mr Benassi was delighted to find somebody who had the same idea he'd been thinking of for some time. He did not hesitate to help Mrs Allain set up the project ''
RENOUER Projet Cueillette Solidaire
"
In the beginning...
The lavender idea blossomed when Mrs Allain and her group played for a function in Mrs Roux's flower gardens on the Route de Cipières. Mrs Roux offered to donate her lavender in exchange for the labour provided to harvest and trim the bushes and weed and hoe the fields.
While the lavender dries for three months Mr Benassi will have time to find the jobseeker that will sew the sachets for which a generous haberdasher has already donated the cloth and ribbons. Mrs Roux will be by their side to explain how to transform the lavender. If this first test goes well Mr Benassi says they will develop the activity and possibly invest in a freeze-dryer.
Activities and opportunities
"We're always on the look-out for new activities,'' said Mr Benassi. ''And each new undertaking is the opportunity to learn a new trade.''
Renouer is one of the four companies of
Mosaïque
, a 
not-for-profit organisation against social exclusion. Today Mosaïque has four companies and distributes 200 payslips per month. Renouer was set up in 1993 initially to find gardening and cleaning jobs for the unemployed in the Grasse area. Now it actively supports initiatives to create new forms of employment.
''Our philosophy is that work makes a man, said Mr Benassi. ''You need a job to have a place in society. We help the most vulnerable people, those who are victims of the system.''
After a morning of hard labour in sweltering conditions the happy lavender pickers shared a picnic in the welcome shade of the trees before visiting the Source Parfumée in Gourdon to learn all about the uses and virtues of lavender and receive a thank you gift from Mrs Roux.
"A militant act"
Lavender is the second of the picking projects. The group has already gathered more than 400 Kg of plums. They have sold about 150 Kg, made 100 Kg of jam and shared the rest amongst the pickers. Now the adventure continues to find a distribution outlet. As usual, Sophie Allain has plenty of ideas.
''It's a militant act in a way,'' said Mrs Allain. ''It's an engagement to encourage people to consume local produce and enjoy the simple things in life again. It's much more fun to pick fruit in the field than to go to the supermarket. I enjoy it, and at the same time it gives me the satisfaction of furthering an ecological cause.''
People have been very generous so far. Mrs Allain has knocked on the doors of several ecological movements, and people have volunteered their gardens or their labour after reading articles in the local French papers. Recently somebody donated olive nets. But before that there are figs and grapes to be picked.
Renouer will certainly have its arms full.
© by Linda Cadore
How can you help?
Be a volunteer picker. 

Lend your garden and donate the harvest. 

Buy fresh fruit, jam or lavender
.
Help to transform the fruit

Donate tools and equipment
Contact :
Association RENOUER- 9 chemin du Lac – 06130 Grasse
Tel : 04 93 70 50 99 – Fax : 04 92 42 03 95
This email address is being protected from spambots. You need JavaScript enabled to view it.,
http://cueillette.groupe-ess.org/
Or call Sophie Allain on +33 (0)6 10 45 86 00 (Fluent English Spoken)