The Côte d'Azur is an exceptional place to live, whatever your age. However, until recently, the options for expat seniors on the Riviera were relatively limited: return to your country of origin; remain in your home; or move into a more traditional care environment. It's natural to reevaluate where and how we live as we progress through life and these decisions are often influenced by bereavement, issues around heath and mobility, or simply a desire for a greater sense of community.
But what happens if you don't want to go "home", when the Riviera IS your home? Your house is too big but you're absolutely not ready to contemplate a traditional home for dependant seniors. Still, the idea of downsizing and having less household responsibility is appealing.
Sunny Bank and its commercial partner Emerys are proud to have launched Residence Albert in January 2016. Developed to cater to international seniors looking to continue to live independently but who are no longer comfortable in their own homes, each apartment is designed and finished to the highest standard. Combining elegance with practicality, these units will appeal to those who enjoy the finer things.
Quality accommodation for seniors is a growth market around the world but it's unusual to find a small development that offers such a high standard of design, location and an independent lifestyle with access to a such diverse range of resources. Albert's one- and two- bedroom boutique apartments are within walking distance from the local supermarket and the attractive village of Mouans-Sartoux. Next door you'll find "The Grange", Sunny Bank's Charity Centre in close support of residents, offering a range of activities.
Albert's welcoming staff will be taught English (in addition to French, of course) and are "determined" to help renters – who can bring their own furniture and pets – enjoy their new lifestyle. There's a communal laundry and a spa while services include a Monday to Friday concierge, and the restaurant offers half board to full board, and even those special occasions can be catered for.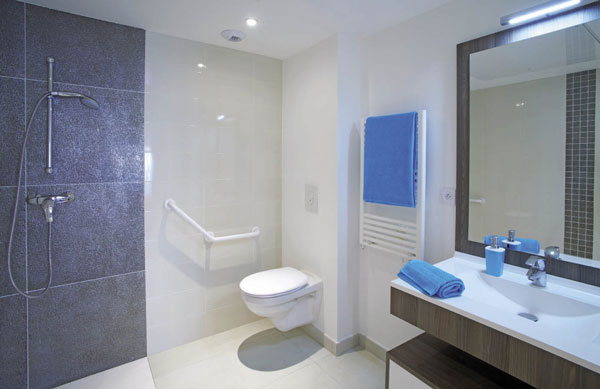 These stylish and innovative units offer the lucky few English-speaking seniors an exceptional opportunity. You'll have enviable access to all the very best the Côte has to offer.
But they are going fast, and will become oversubscribed quickly. Once that happens it might be a long time before another opportunity presents itself. There are a small number of fully-furnished apartments available for short-term rent so that you can "try before you sign up for longer term rental".
One British couple who have rented at Albert were most enthusiastic: "You have to give up a large amount of your life by making a move like this but, in exchange, you are getting wonderful amenities and a great style of living," they told me. "But, for us, the main joy is that moving to Albert will give us independence. We both think that this is the best move we have ever made."
For more than a century,
Sunny Bank
has been supporting elderly English speakers in the region, thanks in part to partnerships with Emera, who manage Victoria, a 90-room
maison de retraite
as well as Emerys, the company behind the newly-opened Albert apartments for independent seniors.
Over the last 30 years,
Emera
and
Emerys Group
has been managing retirement and senior residences in France, Switzerland and Belgium.
To celebrate the opening of Albert and to take a look at the available apartments, come to a free musical evening featuring French singer and songwriter Monique on February 25th, 2016, at 16h30. Please RSVP by email to
This email address is being protected from spambots. You need JavaScript enabled to view it.

.
For more on Albert contact Ellynn Vanlerberghe at Emerys:

This email address is being protected from spambots. You need JavaScript enabled to view it.

or 06 34 45 06 90.
All photos © Gabriel Martinez