This was a subject that popped up in my inbox recently. I figured that it was an email forward with photos of lobsters on holiday sipping champagne while they chose a human from an aquarium. To my delight, I was invited to a Homard & Champagne evening with DJ at the Brasserie La Rotonde at the Negresco Hotel in Nice. And not just any lobster but good ole Canadian lobster. Here was the menu:
---
Joconde biscuit with orange marmalade and light Manjari ganache with pistachio ice cream


Each course accompanied by a different glass of Roederer champagne.

Cost €85 (five coupe de champagne alone would cost more than this).
---
Now La Rotonde and its painted carousel isn't exactly what comes to mind when I think "DJ" – I associate it more with elderly ladies at teatime – nor do I relate a gastronomic meal of this type to it. Jean-Denis Rieubland's two-starred Chantecler restaurant, also in the hotel, is where one goes to blow the palate (and the wallet). Yet following a €12 million renovation in 2010, the landmark hotel on the Promenade des Anglais in Nice has turned its transformation efforts inwardly, in a bid to breathe new life into an old establishment and attract a new and younger clientele. This kicked off with a year-long centennial celebration in 2012, which wraps up this June. Some of the more innovative ideas have been attractive online packages – including special beach holidays or parking included deals – and, apparently, to introduce theme nights at the Brasserie La Rotonde to bring in foodies from outside of the hotel. Earlier in February, La Rotonde hosted a Crêpe Party and this week there will be a Valentine's "Love" dinner while in March, there's a cook-off challenge and Easter lunch on the agenda.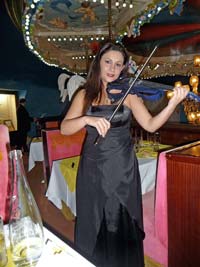 With an empty stomach and overall curiosity, I went to the lobster fest on Friday and was truly blown away for the following reasons. First impression, the friendly service. The wait staff smiled, chatted and were nothing but professional and capable of serving a fully-booked house. Second, the food. I am amazed at this age to taste a new flavour combination that literally blows my mouth away. Each course of this meal produced a "Wow"; I still savour it in my mind. Third, the champagne was divine and emphasised every meaty crustacean mouthful. Fourth, the female DJ played very chilled music (but not enough to induce a nap) and provided back up to a live and funky violinist, who played for each table – twice. Fifth, a bowl of water was brought for my dog (pictured below, who was wearing a tux, by the way).
On leaving the restaurant, I felt as though I had just dined at some new chic eatery in Nice, and had to remind myself it was La Rotonde. The question isn't whether I'd go back, but when.
La Rotonde's Valentine's dinner Feb 14th €85/person.
Lunch prices (no incl. drinks):
La Decouverte du Jour (plat du jour de Jean-Denis Rieubland) €18,
La Formule Bistro €22 or
Le Menu Coup de Coeur €34.
La Rotonde is open daily from 7am to 10pm (and 11:30pm in the summer). Reservations at 04 93 16 64 00 or

This email address is being protected from spambots. You need JavaScript enabled to view it.