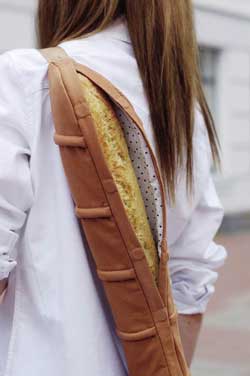 Transporting your baguette from the bakery to your table without any close calls like crushing or dropping it, or even worse, exposing the crust to rain, can really add stress to an otherwise idyllic life. Throw a Baguette Bag (pictured) over your shoulder, though, and the problem is solved.
Designed by the Ukrainian company CYAN, the 100% cotton Baguette Bag comes in four colours and has an adjustable strap, in case you eat too much bread from one week to the next. But before you rush out to buy a dozen for friends and family, the Baguette Bag is not actually for sale yet. It's showcasing on Wowcracy (
www.wowcracy.com
), a crowdsourcing fundraiser site that helps new designers with manufacturing costs. So once €4000 has been pledged online, CYAN can then start production. At the time of press, CYAN had reached only 8% of its target, with only 33 days to go.