These days it's difficult to avoid the word "organic" – or
bio
in French – and seeing the European organic logo, that green flag with its 12 white stars in the shape of a leaf, popping up on food and beverage packaging.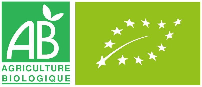 Products sold in France additionally have the green square "AB" logo, which stands for "Agriculture Biologique". A product bearing this label means that one of the several authorised certifying agencies in France has audited and approved the company and its production processes behind the product to claim that the product has been produced in accordance with European organic regulations.
What the heck is "bio"?
As defined on the official EU agriculture website (
ec.europa.eu/agriculture/organic
), "Put simply, organic farming is an agricultural system that seeks to provide you, the consumer, with fresh, tasty and authentic food while respecting natural life-cycle systems."
How does a farm get recognised?
EU Agriculture and Rural Development has specific requirements including wide crop rotation, restrictions of chemical pesticides, synthetic fertilisers, antibiotics and other substances (genetically modified organisms – GMOs –are banned) and livestock must be raised in a free-range, open-air environment with a diet of organic fodder.
Do we really care if it's organic?
A definitive answer is outside the scope of this article. That said, it is probably fair to say there exists more than a casual link between the growing rates of chronic disease in Western society and the ever growing dependence on industrially grown, factory-processed, nutrient-poor and pesticide-laden foods and beverages.
Personally, I am convinced that adopting a diet primarily made up of organically grown foods is essential and, having weighed the options, more and more people are in agreement.
According to IFOAM, the European umbrella organisation for organic food and farming, European retail sales of organic food totalled €22.8 billion in 2012, more than double since 2004. The three largest markets for organic food were Germany (34%), France (19%) and the UK (10%). During the same period, European farmland used for organic agriculture has also doubled and, in 2012, made up 5.6 % of total EU farming area.
Where can we find organic products on the Côte d'Azur?
All major supermarkets such as Carrefour, LeClerc and Casino, are rapidly increasing their offering of organic products. In fact, according to IFOAM, almost 50% of all
bio
labelled products are sold in the
grande surface
supermarkets.
However, the most effective approach is to go to a specialised organic store. In most towns along the Riviera there are independent shops as well as several chains like BioCoop, La Vie Claire and others that provide a wide and generally price competitive offering.
A good local example is The BioCoop in Mouans-Sartoux. The store was opened over eight years ago by Patrick Louvet and his partner. Patrick arrived from Nantes with the specific goal of opening an organic market. He first tried to find the right combination of affordable space, receptive community and good local suppliers in Nice. After a less than fruitful search, he found himself meeting up with the mayor of Mouans-Sartoux, Mr Aschieri who, as a long-term ecologist and in office since 1974, was eager to have an important organic market in his town. So with some speedy cooperation, BioCoop was up and running in 2007. Now with close to 500m2 Patrick is again in discussion with Mr Aschieri to find an even bigger location.
According to Patrick, his client profile is made up of three typical consumer types: first, the "committed" and long-time organic customer that will only eat high quality organic food; second, people not particularly well off, but who are committed to improving the quality of the food they are eating; and last, those with disposable income that may be vacationing in the area or have a second residence close by and want to obtain the same high quality food as in their home regions.
Independent
bio
shops are also adding ever more local and imported organically labelled products to their stock. Most of the staff in these smaller shops tend to be well informed and take the time to help you with selecting the ideal product.
Look at Opio Nature, at the Centre Commercial Font-Neuve, where Celine, Matthias, Nicole and Maurice have created a real family affair and their reputation for quality and exceptional service brings clients from as far as Grasse and Nice.
Then, in the Alpes-Maritimes you have several organic farms, with farmers like Jean Louis Ruggeri and Joelle Zeraffa from La Raiola in Nice, who frequently sell their produce either on site or at their local farmers' markets.
Jean Louis and Joelle have been farming organically for over 25 years. "It is the only way we know and we intend to keep growing like this for as long as possible." They supply produce to some of the finest restaurants on the Riviera, but derive great satisfaction selling at the famous Cours Saleya market in the Old Town of Nice on the weekends.
Over the last several years, certified organic restaurants have been popping up in the region as well. Helen Walker from Chez Helen in the old town of Antibes (35 rue des Revennes) is one of the pioneers on the Côte d'Azur for organic dining. A passionate vegetarian who has travelled and worked on organic farms and restaurants throughout Europe and the Far East, Helen does all the cooking, and with manager Sebastian Gaucherand, they serve a range of vegan and
bio
dishes that change with the season and local offerings of the region.
Is
organic worth the extra effort and cost?
"My Uncle Guido's fresh garden tomatoes are better than anything organic."
That may well be but, again, the
bio
certification is intended to keep food natural and free of poisonous chemicals. It is not a stamp of quality.
Like "Uncle Guido's tomatoes", which have probably been grown organically for many generations, getting food locally from producers that you know and trust is one of the healthier life choices you can make.
In the absence of knowing the source and producer of your food, the
bio
label is one of the best ways to ensure that you and your family are eating clean, wholesome and nutritious food.
6 out of 10 French regularly consume organic products (62 % vs. 49% in 2013)
1st estimate: the market for organic products hit €5 billion in 2014
1.1 million hectares for organic cultivation in 2014 (+ 4% from 2013)
Source: agencebio.org

For more on Scott, see www.pureflowcoco.com