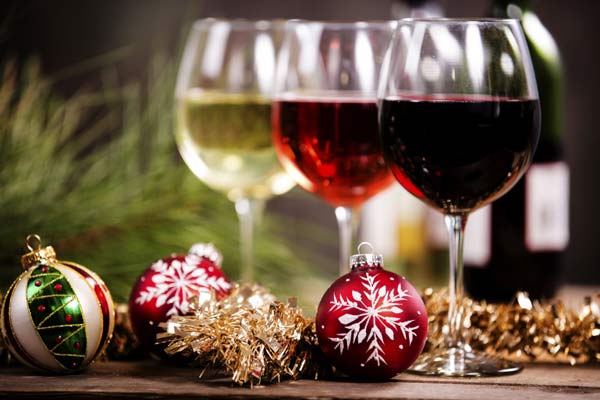 The weather is neither snowing nor frightful but no doubt about it, the festive season is here. Champagne must flow, too much must be eaten and pledges to never do it again made and ignored. My favourite time of year and no consequences that a gaudy Christmas jumper won't put right in a tick! But there is one thorny question that refuses to let us completely relax into the mayhem – what tipple to serve?
With stupendous nibbles, savoury and sweet, foie gras, turkey, goose, cheeses (one for every day of the year) and puddings, Christmas or otherwise, the festive table spread challenges even the most ardent oenophile. Yet with a tad more effort than it takes to make a quick trip round the supermarket specials, simple morsels can be made glorious with the perfect liquid companion.
There are a few golden rules to help: white wine for fish and white meat, red for red meat, sweet wines for sweet dishes and so on … but more important is understanding the reasoning that lies behind these.
A few years ago I had the chance to visit the Beringer winery in the Napa Valley. They were working very closely with the Napa Culinary Institute and showcased their wine with dramatic taste discoveries. The attention-grabbers were steak paired with one of their Napa Chardonnays and a filet of salmon with a Napa Cabernet – both, served without any sauces or sides, worked brilliantly. Without the additional flavours that usually accompany a steak, its natural sugar worked with the sweetness of the Chardonnay fruit and the wine had enough structure from its wood handling to live up to the weight of the beef. Inversely, the naked salmon, plus some healthy caramelised charring to work with the red, in turn had enough sunny softness to not overpower a meaty fish like salmon.
Out of the classroom, one steak is not the same as the next. So much depends on those little Nigella touches and what it is served with. Match the weight of the dish and then it is a question of picking a wine with good acidity or astringency to cut through the sauces, sides and centres. Typically, a good Burgundy (RED!) will meet this brief. And it's no coincidence that the wine of a region is usually a perfect partner for classic local dishes. Sancerre works brilliantly with goat's cheese and river fish or fish in general. Bordeaux whites with seafood and oysters while the reds match perfectly with lamb or
magret de canard
. A hearty cassoulet demands a hearty Languedoc red.
It's all about balance: don't overpower either your wine or your dish, hence fish with more delicate whites, a rich creamy sauce needs a wine of healthy acidity. That same wine might be tart and mean with a more meaty sauce, which needs something rounder and fuller. Always match a sugary dish with a sweeter wine and spicy heat can be tamed by a bit of sweetness.
Getting specific for the season, I can't go past champagne as an icebreaker. Crisp, clean and relatively light, it's the perfect foil for a gamut of canapés and starters and is sublime with oysters. Maybe something off-dry like a Monbazillac for the few that don't like the show (or acidity)! Classic white Burgundy with its weight and cleansing finish is the perfect accompaniment to any seasonal bird. Mind you, so is a classic Claret, if served with all the trimmings. A flamed Christmas Pud is always tricky but a rich Sherry or Pedro Ximénez works, maybe a Banyuls or why not just go straight for the Cognac! But these are all classic examples of proven styles, keep the styles and explore to your heart's content.
For more recommendations see
www.emporiumduvin.com