Jean Cocteau was truly a multi-talented artist. He considered himself a poet but he was also a novelist, playwright, film director, set designer, painter, and ceramicist – a true jack of all trades.
Cocteau was born in 1889 near Paris and spent most of his life in and around that area. However, he also spent quite a few of his last years on the Riviera where he left some artwork treasures dotted along the coast.
Jean's life got off to a difficult start. When he was nine years old, his father committed suicide. He didn't excel at school, but did show a talent for writing. At fifteen, he left home, and his first book of poetry was published at nineteen.
In his early twenties, he became acquainted with many of the Parisian avant-garde artists of the day. But soon the First World War erupted and they all marched off to war. Jean did his part by driving an ambulance for the Red Cross.
After the war, 1920s Paris was buzzing with artistic innovation and Jean was right in the middle of it: writing, designing, and directing to his heart's content. Unfortunately, by 1923, he had become addicted to opium. But even that didn't stop his creativity. He wrote one of his most famous books,
Les Enfants Terribles
, in one week during a drug detox.
In his later years, he spent much of his time in the south of France, and between Nice and Menton there are five great Cocteau sites just waiting to be discovered.
Let's start in Menton where there are three sites for the Cocteau enthusiast:
Musée Jean Cocteau, collection Séverin Wunderman
2 quai de Monléon – (+33) 04 89 81 52 50
Open 10.00-6.00 except Tuesdays and holidays
www.tourisme-menton.fr/Jean-Cocteau-Museum-Severin.html
This museum opened in 2011 to house the collection of American collector, Séverin Wunderman. Wunderman acquired Cocteau's art throughout his life, and donated 1,800 pieces (990 of which were by Cocteau) to the city of Menton. To express their gratitude, the city built a museum to house the collection and made Wunderman an honorary citizen.
Bastion Museum
Vieux Port – (+33) 04 93 57 72 30
Open 10.00-12.00 and 2.00-6.00. Closed Tuesdays and holidays
Entrance is included with the ticket for the Wunderman museum
www.tourisme-menton.fr/Bastion-Museum-404.html
This building was a disused tower of a seventeenth century fort when Cocteau spotted it and got permission to make it into a small exhibition space for his work.
Marriage Salon in Menton City Hall
Hôtel de Ville – Place Ardoïno (+33) 04 92 10 50 00
Closed on weekends
www.tourisme-menton.fr/Jean-Cocteau-Mariage-Hall.html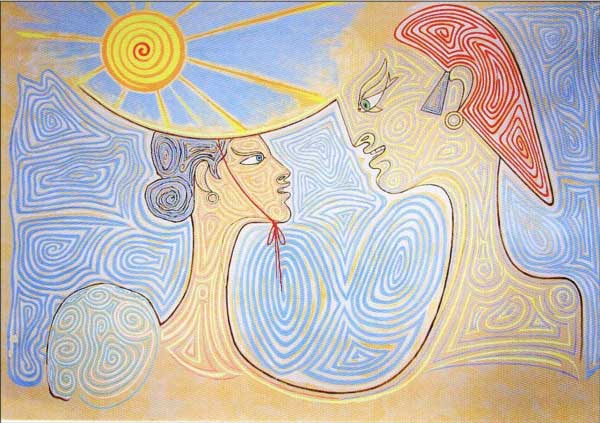 In 1958, the mayor of Menton asked Cocteau to decorate the marriage salon in the city hall. And he did! Every surface is covered by his artwork: walls, ceiling, furniture, curtains, panther-skin rugs, lamps…
The photo above represents an engaged couple wearing traditional headgear. The woman's
capelin
(hat) also represents the riviera sun; and the man, whose eye is in the shape of a fish, sports a red fisherman's cap. The blue behind them represents the sea.
The next Cocteau treasure along the coast is in Saint Jean Cap Ferrat:


Santo Sospir – Saint Jean Cap Ferrat
14 avenue Jean Cocteau
Visits by reservation only: (+33) 04 93 76 00 16, or email:
This email address is being protected from spambots. You need JavaScript enabled to view it.
www.villasantosospir.fr
Santo Sospir is a villa that was completely decorated by Jean Cocteau. When a friend invited him to come and stay at her holiday home for a week, he came and stayed for eleven years! He covered every surface of this villa with his decoration. See the article I wrote about Santo Sospir:
Jean Cocteau and Villa Santo Sospir: the artist who came to dinner and never left
And last, but not least: a little gem in Villefranche sur Mer:


Fishermen's Chapel – Villefranche sur Mer
(+33) 04 93 76 90 70
Closed Tuesdays
From 10.00-12.00 and 3.00-7.00 in Spring & Summer
And 10.00-12.00 and 2.00-6.00 in Autumn & Winter
3.00€
This small fourteenth century chapel is dedicated to Saint Peter, patron saint of fishermen. In the 1950s, when Cocteau set his eye upon it, it was being used to store fishing nets and as headquarters for the fishermen's association. With their permission, he covered the interior walls with his drawings representing Saint Peter, the sea, fishermen, and local life. He also decorated the exterior.
These sites are really worth a look, so if you're in the area, don't miss them.
More from Margo: www.curiousrambler.com