We're heading for a busy couple of months on the Riviera with the Cannes Film Festival and Monaco Grand Prix just around the corner. There are apps for that.
CLICK, CLICK, SMILE, SMILE
The official Cannes Film Festival app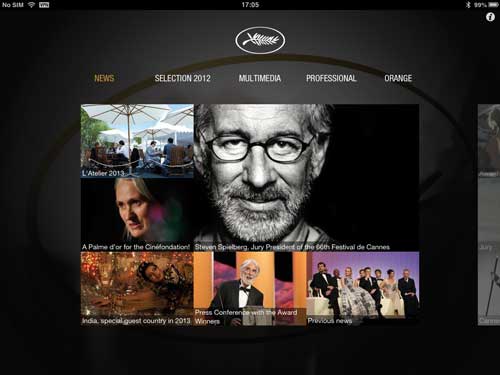 Screenings, events, red carpet, interviews, the closing ceremony, all on your iPad or iPhone from the official source. You won't be able to download the updated app until just before the Festival opens when the list of entries and screenings has been finalised but you can already download it now in its 2012 livery and you'll be advised by iTunes when the app is updated for 2013. There is also an Android version.
https://itunes.apple.com/en/app/festival-de-cannes-officiel/id431842884
The Hollywood Reporter
The ultimate resource for the film industry, THR, as it's known, is very visible during the Cannes Festival and offers a dedicated free app for reading the magazine with a subscription as well as a free festivals app which updates news daily during film festivals everywhere.
THR Festivals app
https://itunes.apple.com/ca/app/hollywood-reporter-festivals/id557195322
THR Magazine app:
https://itunes.apple.com/ca/app/hollywood-reporter-for-ipad/id398952999
VROOM, VROOM, FAST, FAST
Sky Sports F1
The Sky Sports app is free but you'd need a suitable Sky subscription and VPN connection if you're out of the UK (
see HASEurope for both
) . There is no better app for following Formula One than Sky Sports F1. In fact, now that Formula One is no longer broadcast on BBC or on any free-to-air French channel, this may be your only choice. Every race is streamed live on line with a choice of outside and in-car views, race and championship positions, replays and interviews. This is absolutely the best app there is for F1 fans and a must on my iPad.
https://itunes.apple.com/gb/app/sky-sports-for-ipad/id477140057
F1 2011 Game
If you'd like to try driving the Monaco course yourself but you can't quite afford either the latest F1 car or the speeding fine then try F1 2011 by Jump Games for only .79€ on iPhone or iPad. The Monaco track hasn't changed since 2011 so you'll see the familiar Rascasse corner, the slowest hairpin of the season, the noisy tunnel and the chicane as you race past the yachts in the harbour. That is if you can do it without crashing. It's not as easy as it looks but for learning every detail of the course from a driver's eye viewpoint it's a great drive.
https://itunes.apple.com/gb/app/f1-2011-game/id477083515