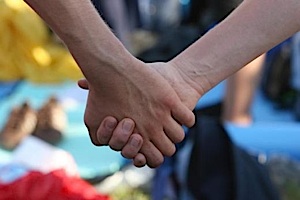 The pacte civil de solidarité (PACS) was introduced Nov 1999 as "a contract between two adult persons of either sex to organise their lives in common."
No hassle involved with town halls and churches, you simply go to a courthouse and sign a piece of paper.
It's the same if you want to break up: no judge, no lawyers. You just deposit a declaration with the court that you're dissolving the arrangement.
One advantage is you make a common tax declaration and if one partner dies the other is exempt from inheritance tax. Not every country accepts a pacsé status though.
For every 2.5 marriages there's now one PACS.


From Riviera Reporter Issue 131: Feb/March 2009