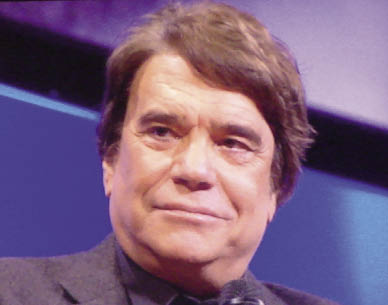 Thirty years ago he was probably the most recognised figure in France. A flamboyant businessman since the early 80s – sometimes thought of as the French answer to Richard Branson – Bernard Tapie has been a singer, actor, television host as well as a politician, serving as Minister of Urban Affairs in the Bérégovoy Socialist government under Mitterrand. The now 70-year-old made a career out of rescuing bankrupt companies: he famously resuscitated Look skiing equipment, La Vie Claire health food shops, Wonder batteries and the Adidas sportswear label, sponsor of this year's Wimbledon champion Andy Murray.
It has not been all smooth sailing for the hardened yachtsman (he owned
Phocea
and
Club Med 2
). His backing of La Vie Claire cycling team in the 1983 Tour de France ended in bickering amongst the riders; his 8-year presidency of the Olympique de Marseille football club won them the Champions League under allegations of match fixing and financial irregularities that eventually pushed the club into second division and Tapie out of his management position in 1993.
Around the same time, unable to pay the interest on the loan to purchase Adidas, Tapie entered into litigation with the state-owned Credit Lyonnais bank, which eventually acquired Tapie's shares in the company and then sold them on at vast profit only a year later to Robert Louis-Dreyfus, a friend of Tapie, and also president of Olympique de Marseille. Twelve years later, in 2008, Tapie won €403 million in an arbitration case against CDR, a public body responsible for settling liabilities of Credit Lyonnais. (When the Hollande government came to power in May 2012 the case was re-examined on suspicion of fixing, with the influence of Sarkozy and the now FMI head, Christine Lagarde, who was Finance Minister in 2008.)
In 1994 he was prosecuted for complicity of corruption and witness tampering and was sentenced to 2 years imprisonment of which he served 165 days. That same year he filed for bankruptcy.
Tapie remained a popular figure with a "self-made Frenchie" reputation and in 2007 he switched party loyalties to back Nicolas Sarkozy for president. At the time there were allegations that this was an opportunistic political step to help him with his ongoing tax problems.
And this year, the drama continues. In June, Tapie was again arrested and kept in police custody for three days and in July, pending ongoing litigation, most of Tapie's assets – including his yachts and St Tropez villa – were seized in escrow as "protective measures" according to Socialist Finance Minister Pierre Moscovici.
And what of his 50% stake in the Hersant Media Group (GHM), which owns
Nice-Matin
? GHM has now given 100% ownership of the Marseille daily
La Provence
to Le Groupe Bernard Tapie (GBT) in exchange for Tapie's
Nice-Matin
shares.
The French media play on
Tapie, c'est partout
, pronounced
tapissez partout
. A literal translation is "put wallpaper everywhere" but in a looser sense it means: "Tapie is all over the place." And that he is.
Photo: Eurobas