I'm sure we've all heard of the Moulin Rouge in Paris, the historic cabaret topped by a red windmill, which is famous for its can-can dancers. But do you know who was their highest paid performer at the end of the 19th century? His name was Joseph Pujol and he had a very peculiar talent. He could fart on demand and in various tones, even playing songs.
Monsieur Pujol, who was born in Marseille in 1857, had the unusual ability to take in air (or water) at will through his bottom. Then, through muscle control, he was able to regulate the speed and force of the expulsion. He first discovered that his posterior was different from those of other young men one summer when he went swimming in the sea. As he was preparing to plunge his head under water, he took a deep breath and contracted his abdominal muscles. Suddenly he felt his insides fill with cold water. Of course, he was terrified and rushed to the shore. He and others were amazed as he stood on the beach with water pouring out of his behind like a faucet. The doctor examined him and assured him that he was fine. So, of course, he started to practice and develop his newfound talent.
Joseph was born to perform. Even as a child, he would sing, dance and play trombone for visitors to his parents' home. So it was only natural that he wanted to show off his newly discovered skill every chance he got. During his time in the army, he further developed his talents while entertaining his comrades-in-arms. He would imitate a fountain, taking in water through his bum and then shooting it high into the air. He soon discovered that his ability wasn't limited to water and that he could also inhale and exhale air through his bottom. This allowed him to enlarge his repertoire by adding "music" and impressions.
It was also while in the army that Joseph acquired the nickname that would later become his stage name. He was called Le Pétomane which came from two French words:
péter
(to fart) and
maniaque
. This translates to something like "The Mad Farter".
After the army, Joseph returned to Marseille where he worked as a baker, often entertaining customers with his hidden talents. However, he yearned for a larger audience, so he left the bakery and took to the stage with his trombone. But soon he discovered that the audience preferred his other wind instrument. His flatulent act was a big hit in Marseille, and he decided give Paris a try.
In Paris, the Moulin Rouge, which had just been open for a few years, was anxious to put him under contract and a windmill seemed just the place for his windy act. He was an instant success and people laughed so hard during his performances that some passed out – especially the women who were strapped into their corsets so tightly that when they went into fits of laughter, they could no longer breathe. Nurses had to be on duty in the theatre when the Le Pétomane was performing to take care of those who passed out from having too much fun.
Monsieur Pujol would appear on stage in his suit looking quite sophisticated. He would explain to the audience that the wind he was about to produce was completely odourless and that no one could say his show stank. Then he went on to entertain them with imitations of thunderstorms, cannons, and simple musical renditions. Later in the act, he would step offstage and connect a long tube to his derrière through a special discreet opening in the back of his trousers. Using this tube he would smoke two cigarettes at once – one with his mouth and one through his... tube. He would also blow out candles from an impressive distance before attaching a small flute to the tube to play more tunes.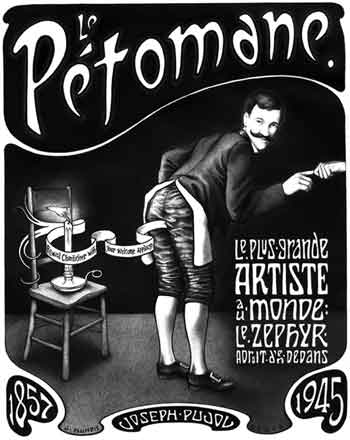 To prove that there was no trickery, he gave performances (for men only) in his underwear which was fitted with a hole in the back large enough for the men to verify that the performance was real. He also gave private performances to those who didn't want to be seen publicly enjoying his low-brow humour, such as the Prince of Wales (the future king Edward VII of England) and King Leopold II of Belgium.
During the two years he was at the Moulin Rouge (1892-1894), he was a great success, even earning a higher fee than Sarah Bernhardt. But this all came to an end when, at the request of a friend, Joseph gave a performance at a fair. The Moulin Rouge saw this as a breach of contract and took him to court. When Joseph lost the case and had to pay damages, he and the red windmill parted ways.
The Moulin Rouge had won the case, but they had lost their biggest money-maker. They soon replaced Joseph by a female version of Le Pétomane. However, unlike Joseph, her talent was not a natural gift. She had a concealed bellow-like device hidden beneath her skirts. Joseph was furious when he heard of this and he went back to court, this time to accuse the Moulin Rouge of trickery. He was declared the only true
pétomane
when the imposter was exposed.
Joseph was vindicated and went on to open his own theatre, where he performed his flatulent act for another twenty years. Then in 1914, when the First World War broke out, he retired from the stage and returned to Marseille. At first he worked in a bakery and later bought a biscuit factory in Toulon.
He died in 1945 at the age of 88 near Toulon. Even after all those years, his special talent had not been forgotten and a Parisian medical school offered to buy his body so they could study his curious anatomy. But the family refused and he rests today in the cemetery of La Valette-du-Var.
For more, see www.curiousrambler.com