Tom Küpper (above) is a stained glass conservator at Britain's third largest cathedral, Lincoln Cathedral, where he's in charge of the upkeep of 750 windows, the oldest of which date back to the 13th century. The 51-year-old once owned a stained glass business in the northwest of England, and has an MA in the Conservation of Historic Objects. Mr Küpper has been working on his PhD, researching 19th-century amateur art in places of Christian worship, which led him to an old newspaper article from 1867, concerning the English Church in Cannes, immediately piquing his interest.
It's well documented that during the Victorian period, English nobles fashionably spent their winters on the French Riviera, often prescribed by doctors to cure health problems. One such upper class was Englishman Mr William James Garnett, a former MP for Lancaster. He customarily wintered in Cannes and during these visits would attend the English Church, then known as Christ Church Cannes.
Having greatly benefited from his French Riviera stays, Mr Garnett was happy to comply when the chaplain, Rev Rolfe, and the layman asked him to help fund a stained glass window for the new church expansion. The three-light window was made in London by Messrs James Powell & Sons of Whitefriars Glass, and in October 1866 was shipped to Cannes. It was to arrive on the cargo ship
Fairy Vision
at the dock in Marseille. However, just before reaching the port, dense fog caused the ship to run aground on a sandbank and all its cargo, including the window, sank into the sea.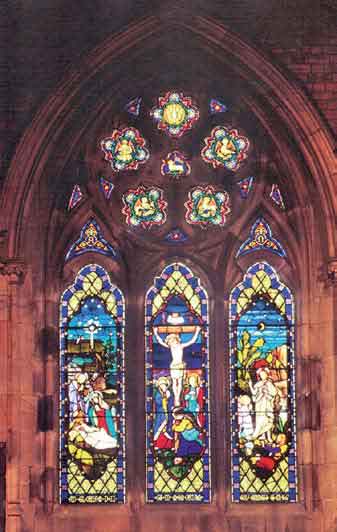 Since the window was insured, an exact replica was swiftly made within a month and shipped to the church in Cannes. This second window arrived without incident and was installed in Christ Church Cannes.
In the meantime, the wreckage of the
Fairy Vision
lay submerged for five months before being sold to a Greek businessman, who then recovered the cargo and put it up for auction. Mr Garnett bought the original stained glass window, which had not deteriorated despite its temporary stopover underwater. He had it shipped back to Quernmore Park, Lancashire, where he lived and, in 1867, it was slightly altered to fit into the local church; the three lights depict the Nativity, the Crucifixion and the Resurrection (pictured on the right).
Back to Lincolnshire and our curious conservator Tom Küpper to whom these two windows, comparable to a set of twins separated at birth and raised under different conditions, make the perfect case study. Mr Küpper was able to track down the window in Lancashire but, unfortunately, his search for the window in Cannes ends with the closure of Christ Church and the building being torn down in 1951.
It is possible that the window is still somewhere in Cannes. If anyone has any information as to where the stained glass may have ended up, please contact Mr Küpper via the
Reporter
at
This email address is being protected from spambots. You need JavaScript enabled to view it.
Photos supplied by Tom Küpper.

For more, see www.curiousrambler.com