In Paris in 1902, young Dr. Marcile was head-over-heels in love. The young lady who was the object of his affection loved him too, but her parents wouldn't consent to their marriage. They were both heartbroken. Then one day, when the doctor was passing a garage on Avenue de la Grande-Armée, he noticed a sign advertising cars. The garage claimed to have the fastest and most reliable cars anywhere.
The good doctor had an idea – wouldn't one of these fast motor cars be the perfect way to whisk away his love so they could finally be together? He went in to speak with the garage owner, Bob Walter.
An Odd Name
Bob Walter was not your average garage owner, nor was she your average woman – that's right, Bob Walter was a woman. She was born in French Algeria where her father was a government official; then, after her parents died, she moved to Paris. She found a bit of fame on the stage around 1890 when she was in her mid to late thirties and she changed her name from Baptistine Dupré to Bob Walter. No one seems to know why she chose this odd stage name.
Singer, Dancer, Lion Tamer
Bob sang, recited poetry, was a mime and a dancer. She was probably best known for performing the "serpentine dance" which was popular at that time. She would dance in a dress that had long panels that she would swirl around her, transforming herself into a flower, a butterfly, a serpent, and many other forms. All this swirling was accompanied by a light show of constantly changing colours.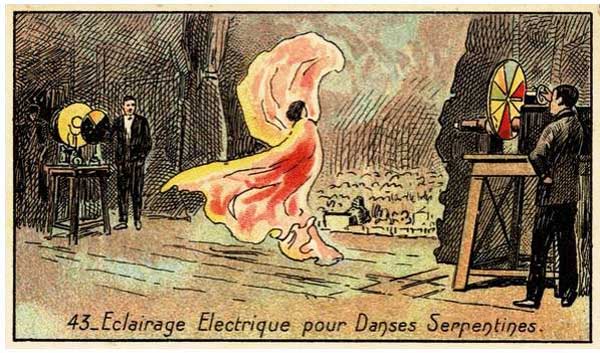 Then, to make her performance more exciting, Bob started performing it in a cage of lions. She teamed up with lion tamer Georges Marck for a sensational show. Mr. Marck would drive the lions into a corner and make them lie down. Then Bob would perform her swirling dance accompanied by changing coloured lights.
Don't criticise Bob
Bob was generally loved and appreciated by her audiences, but when one newspaper critique filled his column with harsh criticism of her act, she didn't take it very well. The next time Bob saw him, she put her key ring in her hand and attacked him, giving him 4 blows to the face. The public judged Bob's behaviour as inappropriate and her stage career soon ended.
Garage Owner
Bob needed to find a new way to earn a living, so she turned to one of her other interests - race cars. She loved driving fast cars and had won two races in 1902, getting up to the dizzying speed of 56 mph (90 km/h). So it seemed like the natural next step for her to open a garage for motor cars. She sold and rented what she claimed to be the best and fastest cars around. Race cars with qualified drivers were rented to those who needed to get somewhere quickly. And that's exactly what had caught the eye of love-stricken Dr. Marcile.
The Elopement
He met with Madam Bob and explained his star-crossed situation and his desire to speed away with his beloved. Bob, who was a romantic at heart, thought it was a great idea and began to organise the elopement. Just like a modern-day wedding planner, she took care of all the details. She planned a route, contacted a mayor to perform the ceremony, reserved a villa, had champagne waiting, she did everything necessary for a romantic getaway. At the appropriate moment, the young lady was nabbed off the street – much to her surprise and the surprise of those around her. Then the lovers sped out of sight in their race car driven by Bob's experienced chauffeur.
The girl's parents called the police and reported their daughter had been kidnapped. The incident was in all the newspapers and everyone was talking about it. When the couple returned, however, the girl declared publicly that she had gone of her own free will. Her parents pardoned them and gave the marriage their blessing, so their story had a happy ending.
A New Business in Born
Bob was happy too, and not just because she had helped two young lovers marry. During the time when the police were searching for the couple and the incident was in the news daily, Bob's garage was getting a lot of free publicity. Of course, she was never one to miss an opportunity and in her next advertisement she wrote, "The car which was used to carry off Mademoiselle Le Play was a 16 horsepower Vinot-Deguingand leased from Garage Bob Walter and used by Madame Bob Walter during races in Deauville." Other lovelorn young men thought this new form of elopement was a great idea and Bob smelled a money-maker. She began to specialise in elopements.
The Cupid Car
She equipped her fastest car (in a garage full of race cars) as the "Cupid Car." It had a little cupid painted on each door and the front was painted deep red - the colour of passionate love according to Madame Bob.
The elopement business turned out to be very lucrative for her. Sometimes she got a bonus when a father of the bride would race into her shop wanting to rent the fastest car she had to try and catch his daughter who had been carried off a few hours before in the Cupid Car. Madame Bob would graciously agree to rent him a car and driver as well, but it inevitably had less horsepower than the Cupid Car and the lovers were rarely caught.
The End
Sadly, it all came to an abrupt end in 1907 when Bob died suddenly from pneumonia at the age of 51. It seems that the romantic Madame Bob (also known as Mademoiselle Bob) may never have found her own true love, as we find no record of her ever having been married. Could it be that she was just waiting for some handsome man in the Cupid Car to drive by and sweep her off her feet? Come to think of it, if anyone had been foolish enough to try to grab her off the street and throw her into a car, he would probably have ended up with a couple of black eyes and a scar or two like that unlucky newspaper critic!
For more from Margo, see www.curiousrambler.com