In September 2001, Publishing Director Mike Meade was contacted by John McLaughlin, host of
The McLaughlin Group
, a long-running political commentary TV show in the US. McLaughlin and his wife were driving from Marseille airport towards Cap d'Ail when their rented Mercedes was ambushed in Nice north, their passports and jewellery taken.
McLaughlin told Mike Meade, "We were careful not to erase the fingerprints on the car door and to note the description of our attackers but the police weren't interested. I'll be telling my millions of American television viewers how lax security and police work is in Nice."
Well, that was the week of 9/11 and McLaughlin's story lost precedence. More than a decade on, these types of stories on the Riviera are not "Breaking News", but how victims react can make a difference. Here are two accounts from readers.
A Scottish couple who, along with their three children, have been living in Nice for several years, were involved in a crime. Mum Liz (not her real name) picks up the story.
"Our son David was followed by two youths on his way back from school at 3:30 pm on a Monday afternoon in October, and was grabbed around the neck by a guy of between 16 to 18, who then took his phone. David, fortunately, wasn't hurt, but was shaken up. He doesn't go around expecting this sort of thing to happen to him, so it was a bit of a harsh lesson for him to learn.
"I went to the main
Commissariat
near blvd Dubouchage in Nice and they really couldn't have cared less. The man at reception asked me if I had a
numéro de serie
for the stolen phone. I said that my concern wasn't about getting the phone back but that my 13-year-old son had been attacked in a residential area, on his way back from school, in broad daylight.
"I mentioned that there would be something on CCTV, as they had passed a few cameras en route, but he suggested I return the next day with, again, the
numéro de serie
. I replied that I wasn't happy with that response and asked to speak to the boss ... inevitably a 'No'. Same answer when I requested the person's name. When I asked why not, I was told they didn't do that in France.
Hmm
…
"When I left I got chatting to a female officer from the municipal police who told me I should go to St Augustin (chemin de la Digue des Français, Bâtiment 43) as, in her words, they were much better (shocking!). And she was right.
"Their response couldn't have been more different. As it was an aggression against a minor, they wanted to look into it although they did say it was very unlikely that the perpetrator would be caught. The captain said these guys work in gangs looking for vulnerable targets. He told us that the phone thieves steal about 10 phones per day and then sell them on for €100 each. It's lucrative work for them and there's not much likelihood of being caught and even less likelihood of being prosecuted.
"He did give David some general advice that would be useful to any readers with children (see box below), although if you ever find yourself around a
collège
or
lycée
at start or end time, you should look at how many kids do the complete opposite of these suggestions!
"I also sent an email via the
Nice.fr
website to Mayor Estrosi, saying that I'd read about all this investment in CCTV cameras, yet they weren't being used. And that it's a pretty serious situation if we can't guarantee that our kids can walk to and from school in safety. Also if the police have the sort of attitude that I witnessed initially, people won't even bother reporting the crime.
"I had a call from the Maire de Nice (
Assistance aux victimes
), who had received my email. Very pleasant and human actually, they said they had recommended increased patrols to the police around Parc Imperial, although I'm not sure how influential they are.
"I mentioned that some streetwise awareness workshops would be good for students and they seemed to think that was a good point as these are only done for older people and for primary kids at the moment.
On verra
…"
Kids and mobile phones: Streetwise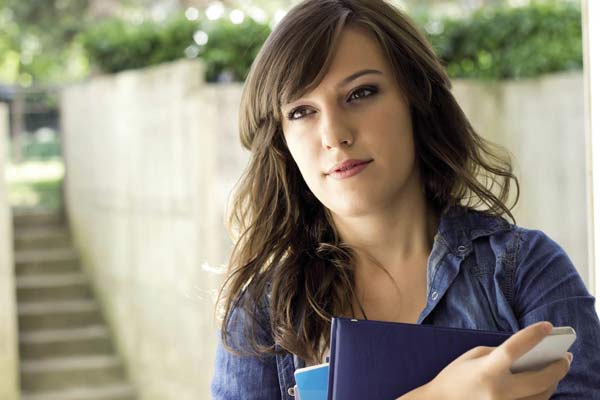 • Don't have your phone out on display when you're on the street.
• Don't wear headphones if walking alone.
• If you do make a call, have your back to a wall so that you can get a good view all around you.
• Don't call your friend from the bus saying, "I'll be there in a sec" or "
J'arrive
", you could be followed.
• Girls should have any bags tucked under their arms.
• Don't try to be a hero over a phone. These guys won't hesitate to kick someone to the ground or knock someone's teeth out, boy or girl.
Taking the bite out of bad apples
Kay O. lives in San Francisco, California, but visits Nice every year.
"I have been fortunate to have lived in many different places and travelled extensively throughout my life, which I thoroughly enjoy. It gives one a wonderful insight and awareness into the differences and similarities in people and places and what makes them memorable and unique.
"France in general has always been one of my favourite destinations and it has been my pleasure to spend five months each year for the past number of years in Nice and, over time, I have made many friends. I love the abundance of choices available and have taken full advantage of all. However, in latter times I have noticed a very unsettling trend which seems to be growing and is becoming a problem.
"Whereas I never had fears for my personal safety in the past, this is no longer the case. Unfortunately, robbery, violence and disorderly conduct have become all too familiar and occur at all times of the day and night. In my particular case, the robbery and violence occurred on a Sunday morning at 10 am, when my friend and I were returning from the gym. As we were entering our building, in a lovely part of the city one block from the Promenade des Anglais, we were followed into the courtyard of the residence and attacked by a very brutal man who tried to rob us. Robbery is one type of assault but coupled with violence it is the most terrifying experience imaginable. In addition, my French friend is almost blind so she had an even more upsetting experience as she heard and felt everything without the benefit of being able to see to defend herself.
"Fortunately, a man who was coming out of the parking lot nearby heard the commotion, which was now on the street, and saw what was happening. He retrieved my purse after a scuffle and then chased our assailant down the street, unbeknownst to him, while speaking to the police on his cell phone and directed them to a location where they caught and arrested him.
"The undercover police came to our building in the afternoon and asked if we would go to identify him, which we did. They told us this individual had been arrested many times but always managed to get back on the street, which was very frustrating for them. They asked if we would voluntarily go to court the following day and testify at his trial. We agreed. We listened to this man whine and cry and talk about
ma mère
to the judge, which was the best acting I have seen in a long time. The prosecutor presented her case and this time it was successful. He was sentenced to one year and the plan was to deport him as he was illegal and had about ten different aliases.
"I will admit we were concerned that he might be released and felt we would be in physical danger, as he knew where we lived, but our decision to identify and testify against him was based on two very important facts. When we spoke to that very kind man who chased our assailant, he said, 'I did my duty and no thanks necessary.' What a very simple, powerful and impressive statement. The second was an appreciation for the hard and difficult work the police and prosecutor do every day. They were courteous, efficient and professional in every respect and 'did their duty' … so we felt it was 'our duty' to do the right thing also.
"The most important aspect of this story is that there was one bad apple that created a lot of trouble for many people for a long time. People working together by doing the right thing stopped the rot. It is not enough to keep things looking pretty, it is important to work together to keep things safe. I am looking forward to returning to Nice again this year and enjoying all the pleasures but I will be vigilant because you never know when you can meet that 'bad apple'."
Police in the A-M have launched a "Call 17" campaign. Anyone reporting a break-in, even if just looks suspicious, should call "17" instead of 112 or the local police.