Just an hour from Sainte Maxime and the Côte d'Azur, in the heart of old Provence, sits the enchanting village of Sillans-la-Cascade in Central Var.
Its name alone entrances ... famed for wonderful waterfalls just a few minutes' walk from the village – you can almost hear the cascade rushing down rocks as you say it. And with a
boulangerie
, several restaurants as well as a summer Art Exhibition, there's plenty to tempt you to stay awhile and linger – for this village is unspoilt by modern additions and there's many a nook and cranny to explore. Perhaps best of all is its lovely surroundings with forests and a small river valley in seemingly untouched countryside.
This part of Provence has much to offer. After all, who needs busy crowded beaches in summertime when there are natural wonders to explore such as the Gorges du Verdon? Then there's the nearby Lac de Sainte-Croix and many a beautiful Provençal hilltop wine village, set against craggy foothills, to explore. Enchanting villages host street markets proffering the best of local produce – and the scent of lemon, lavender, rosemary and thyme waft gently on warm air during the long summer evenings giving balm to the soul as you sit in the shade of an ancient tree sipping an
apèro
, a perfectly chilled Provençal rosé. Could this be the perfect end to a perfect day? Yes! Especially if it's in total seclusion on your own terrace and within easy walking distance of this lovely village.
Less than a kilometre from Sillans-la-Cascade sits this traditional Provençal bastide providing enchantment of a different kind – almost Narnia-like, its many rooms offer surprises in an inimitable floor plan … and what treats there are in store.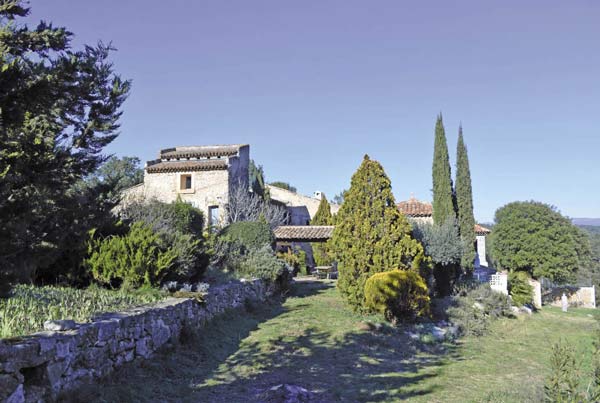 It was built around the 18th-century building, possibly on older foundations – for who would not have wanted to first lay claim to this enviable spot? While so close to the village, its 20 hectares of woodlands and paddocks are totally secluded and its elevated position ensures privacy.
Built of ancient stone, with pretty blue shutters, as a first time visitor you might enter through double doors into the entrance hall that leads on into the double height grand dining hall, complete, naturally, with its minstrel gallery making this the most wonderful place in which to entertain. The book-clad walls of the salon secrete a hidden door, which in turn opens into a private snug or perhaps the perfect reading room to while away the hours looking out over your new domain. And there are more surprises awaiting in the beamed large country kitchen – for here there is the entrance to a vaulted wine cave which sits below, perfect to store all the Provençal wine you'll want to collect on your sojourns around the neighbourhood.
For the artist, there's an atelier and music room ready to delight, as well as necessary adjuncts of offices and utility room.
Upstairs in the main house, there's the master suite with dressing and bathrooms, as well as a further four bedrooms. Every self-respecting bastide should have its own
pigeonnière
, and this one does not disappoint with its own bedroom and study. Outside mature gardens surround the house; then there's a courtyard and covered terraces perfectly sited for long hot summer days as well as the wonderful, superb fully-enclosed swimming pool – the perfect place in which to cool off – or, perhaps, even exercise.
Set in out buildings, there are another three studio apartments – one awaits completion – perfect to use as gîtes or establish long-staying visitors. And speaking of long staying "friends", there is stabling for 12 horses. Of course, they'll be well catered for, too, with the tack room and outdoor ménage, hay shed, and will even have their own shower. With paddocks and woodland, this is the perfect place to escape the world and go riding through the countryside – your magical kingdom awaits…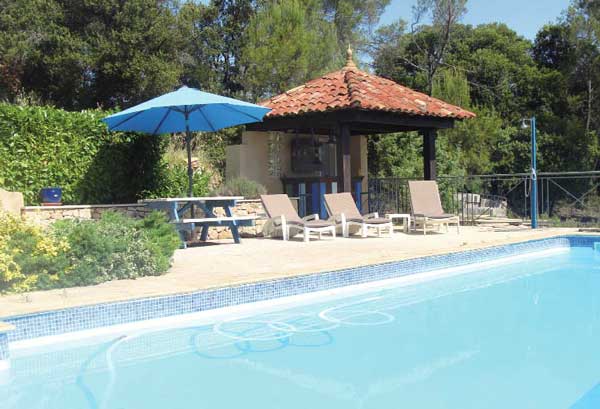 With a total of eight bedrooms and five bathrooms, this exceptional property is on the market through Leggett Immobilier (Leggett reference: 60594) at an exceptional price of €976,500.
With its private setting, secret rooms, and generous accommodation for both two- and four-legged friends this is no "run of the mill" Provençal farmhouse – and it might very well be your own Narnia.
For more information contact Jill Wilson at Leggett Immobilier on 06 82 86 95 56 or email

This email address is being protected from spambots. You need JavaScript enabled to view it.