Ronald van der Meij carefully put down the bottle of wine he had just selected and, straining his ears, tried to make out the sound that was filtering through the cellar wall.
"I was sure I could make out the sound of running water," says the 62-year-old Dutchman. "Clearing stuff away, I could see that part of the wall had been filled in with stones, I guessed not too many years before."
Intrepid Ronald decided to investigate further. This Indiana Jones of St-Paul-en-Forêt was soon to be found burrowing through the rubble. What he found on the other side of the wall made his jaw drop.
"I saw in the torchlight a grotto with impressive stalactites. Water was trickling through the rocks. I wondered what this secret place could have been used for."
What Ronald had unearthed turned out to be a forgotten fragment of tempestuous history, that terrible period in the 13th century when the Midi was scourged of the "curse" of the Cathars, the sect that practiced a simplified form of Christianity that was anathema to the Church of Rome.
"I discovered that, although the greatest concentration of the Cathars was in the French southwest, they were found all over the south. In Provence they were often shepherds, and the grotto I had brought to light was a secret place of prayer long before St-Paul was properly established as a settlement."
The grotto is one of many appealing features of Le Pavillon, the beautiful old
mas
on the fringe of that enchanting Var village, that Ronald and his wife Reni are selling.
"We are looking for something a little smaller now that the family has grown up," says Ronald, who has combined sports teaching and antique selling in his varied career.
"Le Pavillion is a very special house, just a couple of minutes from a morning café and a chat in the village, but with plenty of space and lovely mountain views. St-Paul is famous locally for its perfect blend of mountain and maritime climate. Getting about is easy, we are half-an-hour from the coast, skiing is only an hour away and we're 45 minutes from Nice airport.
"We love our surroundings and wouldn't dream of moving away from the area. This is the real France, where when a streetlight goes out it stays that way for four months. You have to take time for everything, the place evolves slowly. For example, the stalactites in the grotto grow at the rate of one centimetre every 100 years, and there are some over a metre long."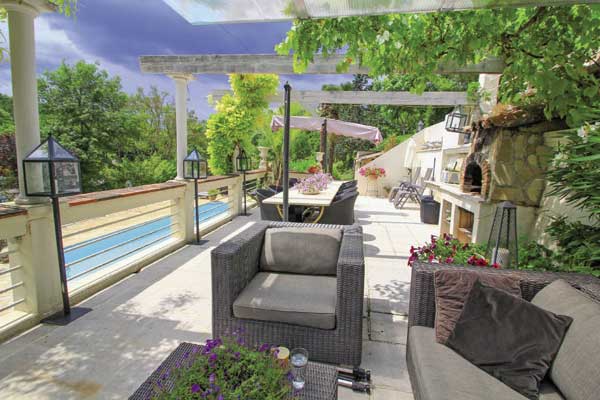 In the 18 years that Ronald and Reni have owned their mas, a gradual transformation has taken place, a tweak here, an extension there, all using local stone and craftsmanship. The result is a perfect blend of a cosy interior for wintertime and the great sunny outdoors for summer. As an extra plus, Le three-bedroom Pavillon is adorned with frescoes and other artworks, the legacy of wealthy Italian former owners. There is a generous-sized swimming pool, a large, independent studio and 5300 square metres of terraced grounds.
All in all, Le Pavillon is the perfect place to escape, happily no longer from religious persecution, just from the pressures of modern living.
For sale at through Jennifer Tombs of Legget Immobilier, call 06 71 10 29 03