For any book-lover, the Shakespeare and Company bookstore in Paris is a must-see. It's been the centre of the English-speaking literary community there for sixty years. Located just across the Seine from Notre Dame, it's housed in a crooked 17th century building with huge exposed beams. The building, which was originally a monastery, has been transformed into a magical place which feels like visiting an eccentric uncle's library. Every space is filled with books, interspersed with art objects, philosophical signs and, here and there, a vase of flowers or a cat peeks out.
Upstairs in the reading room, you will find a piano waiting to be played by a talented customer, little nooks with sleeping or reading spaces, tiny work stations equipped with typewriters, and bulletin boards filled with notes left by visitors over the years. And, of course, this famous little bookshop is crowded with people browsing all these lovely books.
The man who created this magic was George Whitman, an eccentric American who was born in New Jersey and raised in Massachusetts. As soon as he finished his university studies, he set off on a four-year walkabout through North and Central America. It came to an end when the Second World War broke out and he was stationed in Greenland as a medic. After the war, George, an avid reader, settled in Paris and used his GI coupons to accumulate as many books as he could. Then he started selling them from his small hotel room on the left bank.
It was during his early years in Paris that he met another American named Sylvia Beach. Sylvia had opened a bookstore in Paris in 1919 which was called Shakespeare and Company. It was located at 12 rue de l'Odéon and was a hub for Lost Generation writers, such as Hemingway, Stein, Fitzgerald, etc. Sylvia even used her own funds to publish James Joyce's
Ulysses
in 1922 when all others shied away from the book which had been declared obscene. But her Shakespeare and Company closed in 1941 because of the war and never reopened.
When George came into an inheritance in 1951, he finally had enough to buy a property and open a bookstore of his own. He bought the building at 37 rue de la Bûcherie in a rundown neighbourhood and called it Le Mistral. This location now is prime real estate with its view of Notre Dame.
George patterned his bookshop on Sylvia Beach's model and made it a community centre for writers. For him, encouraging writers and readers was more important than selling books. In addition to being a bookstore, Le Mistral was a lending library, it hosted weekly literary events, and it was a hostel of sorts.
When George was younger and travelling around the world, he had been deeply impressed by the kindness of strangers who had lent him a hand when he needed it. This formed his philosophy, which is posted on the wall of the shop: "Be not inhospitable to strangers lest they be angels in disguise." This is why he allowed people (mostly aspiring young writers) to sleep in the bookstore and why you will see beds built into the bookshelves.
George nicknamed these travellers "Tumbleweeds" and it's estimated that about 30,000 of them have stayed in this bookshop over the years. He didn't accept reservations, so if someone wanted to stay, they had an interview with George. He would ask about their writing, etc and then pronounce the verdict. Their stay wasn't exactly free though, the Tumbleweeds had to agree to certain conditions. They had to promise to read a book every day, help in the shop for an hour each day, and write a one-page autobiography. Today, there are shelves lined with hundreds of notebooks recounting the lives of those that have passed through.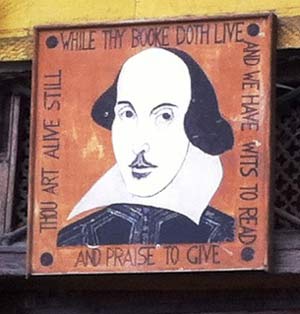 In 1964, two years after the death of Sylvia Beach, George changed the name of his shop from Le Mistral to Shakespeare and Company as a way to carry on Sylvia's memory.
George was married only briefly and his daughter was born in 1981 when he was 67. He named her Sylvia Beach Whitman after the owner of the first Shakespeare and Company bookstore. But, when Sylvia was about six years old, her parents separated and she went to England to live with her mother.
In 2002, Sylvia went back to Paris to get reacquainted with her ageing father. She gradually took the reins of the shop and made modern improvements (such as installing a telephone, credit card machine, and internet) often against George's protests. But he eventually came around and the historic bookshop joined the 21st century. In 2011, George, who had dedicated his whole life to the bookstore, died two days before his 98th birthday in his room above the shop. Sylvia is now following in her father's footsteps and is dedicated to keeping the spirit of the bookstore unchanged. Under her direction, it should remain a centre for Parisian literary life for many years to come.
On the wall outside the shop is a blackboard where George used to write messages. He called it the Paris Wall Newspaper and what follows is an extract from what he wrote on January 1, 2004, and which is still by the shop door:
"Some people call me the Don Quixote of the Latin Quarter because my head is so far up in the clouds that I can imagine all of us are angels in paradise. And instead of being a bonafide bookseller I am more like a frustrated novelist. This store has rooms like chapters in a novel and the fact is that Tolstoi and Dostoyevsky are more real to me than my next door neighbours…

One hundred years ago my bookstore was a wine shop… Further back in the year 1600, our whole building was a monastery called La Maison du Mustier. In medieval times, each monastery had a frère lampier whose duty it was to light the lamps at nightfall. I have been doing this for fifty years and now it is my daughter's turn. GW"