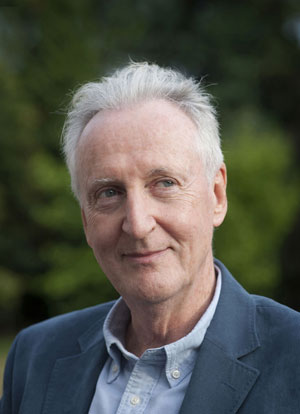 Inspector Poirot called him Captain 'Astings, and the French sleuth would be proud to know that his faithful if sometimes clueless friend had finally solved a mystery.
Hugh Fraser, who played Captain Hastings alongside David Suchet in the classic TV adaptation of Agatha Christie's Poirot novels, has turned his hand to crime writing, so this time it is he who is calling the shots.
Hugh has created a memorable, scary heroine in Rina Walker, a hit-girl who at the start of Hugh's debut novel
Harm
wakes up in a Mexican hotel room to find her employer's head on the bedside table.
You would be forgiven for thinking we're a long way from the gentility of Agatha Christie, with Poirot sipping tea from bone china as the "little grey cells" get to work. But Hugh would beg to differ.
"Poirot had its moments of graphic violence," says Hugh, 70, who is making a special trip to Antibes on December 12th, 2015, to sign copies of
Harm
and chat with fans at Antibes Books.
"For instance, in
The Mystery of the Spanish Chest
, a woman canoodles with her lover as the cuckolded husband watches through a peephole, the man spies the husband and promptly thrusts a dagger through the hole into his eye and his brain. It's brutally violent, not a lot of Agatha Christie gentility going on there."
The passages of graphic sex in
Harm
are another matter, however, guaranteed to give Poirot a red face and trembling 'tache.
Hugh had tried his writing hand a couple of plays before signing up for a UEA/Guardian creative writing course.
"It was a short story course, and pretty intensive. We were expected to produce one a week. Towards the end of it I started mapping out a novel, took it to my tutor Bernardine Evaristo [an award-winning British writer] who encouraged me and said I should continue with the book.
"It took a year to complete the first draft, and another year until it was ready for publication. My editor, Katie Green, was a great help in the process.
"I found I rather enjoyed the discipline of writing every day, although there are of course times when you get stuck and can't see the way ahead clearly, that can be very frustrating."
Hugh tells the harrowing story of Rina in the first-person. It's daunting and courageous of established male novelists to speak with a female voice, but like the true creative writer he so obviously is, he had not option.
"Rina just took over my imagination and the narrative. It was as simple as that. I couldn't tell the story any other way."
For his Antibes Books appearance, as well as answering questions about his writing, Hugh will happily reminisce about the making of a TV classic.
"David Suchet [who played Poirot] and I got along very well. I admired him for being the consummate professional he is. One of his hallmarks was his ability to get 'in character' and stay there. One minute we'd be in the dressing room talking about what was on TV the night before, then he would don the moustache and immediately become Poirot: 'My dear fellow, I vill zee you on zee set laytur.'
"The summing-up scenes at the end of an episode, where Poirot gathers all the characters in the drawing room and reveals the identity of the murderer, were a particular tour-de-force from David. The script for this dénouement would run to 25 or so pages, he would have every line perfect on the first take. Most impressive."
Having in
Harm
produced a cleverly interwoven plot that introduces us to the hard school of deadly knocks that transformed the heroine from child to killer while following the doubles-crosses and dirty deals of her time in Mexico, Hugh can move towards his next Rina Newman book with confidence.
And unlike his hapless creation for Poirot, this time Captain Hastings won't lose the plot.
Antibes Books (13 rue Georges Clemenceau) welcomes Hugh Fraser on Sat December 12th, 2015, at noon, to sign copies of his new novel,
Harm
.