One of four pros at the Old Course, Thomas Vander Clock shares with Riviera Golfer some interesting practice drills.
Thomas Vander Clock was a junior at the club before going on to pro school then returning to the place where he first picked up a club.
1. Putting short
Afraid of knocking the ball 10 feet past the hole, we dribble it up so the ball turns away from the hole or stops tantalisingly short.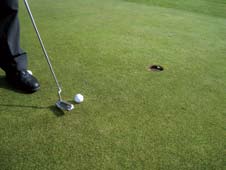 2. Tip
Insert a tee peg into the side of the cup just below the surface. Your aim is to hit the top of the tee peg. The exercise will get you rolling the ball firmly at the hole.
3. Missing your target
You're concentrating like mad on a nice pendulum putting rhythm in a needle match when you find the ball is missing the target left or right. You're not hitting the ball out of the dead centre of the putter.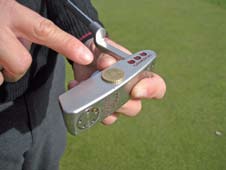 4. Tip
Find the true centre of the putter by holding it upright between finger and thumb, then with the other hand tapping a ball against the blade (3). A tap anywhere apart from true centre will make the putter blade turn. Once you have found it, tape a coin over the centre spot (4). Now make some practice putts. When you hit off centre now the ball will fly off at a wild angle.
5. Facing a green-side chip
You've been practising your chips. You know to play the shot smoothly almost as if you were putting, while keeping the wrists firm but you still end up miles past the hole.
6. Tip
Too many people aim at the hole. Forget it. Pick your line then aim at the place you want the ball to land – in this case on the very edge of the first cut. You will think you've under-hit until you look up to see the ball cosying up to the pin.