Travelling along the Riviera coast by sea, road or rail revealed a phenomenon new this summer: an amazing number of large yachts anchored not far offshore. This is sometimes because of parsimonious owners or charterers avoiding marina fees, but it is true France has an acute shortage of berths, and available places get booked up early. Italy has been busy constructing new marinas – Loana, Ospedaletti and Ventimiglia are nearby – but France has lagged behind, so there are never enough places for the increasing numbers of mega-yachts flocking to the Riviera.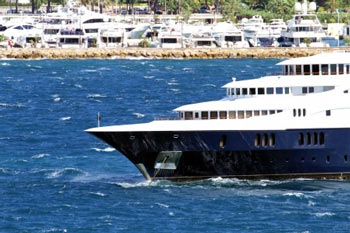 Some yachts are actually cruising for the enjoyment of their owners and guests, and they are greatly welcomed in the facilities ashore. Others are simply "parked", waiting for the next charter. They must run a generator and provide boat transport for crew to shop, and remain at short notice to move to sheltered waters if worsening weather threatens. They must also take all their waste ashore by tender to the
poubelles
in the nearest port (most ports want to be paid for this extra load of garbage), and they may be damaging the seabed with their anchors, as well as becoming another possible source of pollution. Local authorities would like to ban these inactive yachts, but have no power unless a nuisance can be shown, such as a recent case of over-loud music at midnight. Anchorage-prohibited areas can only be established by national agencies, and until some tragedy occurs this is unlikely to happen.
On paper, anchorage zones for yachts large and small sound attractive. Large commercial ports such as Genoa have them for vessels waiting to enter harbour for loading or unloading, and ships with dangerous cargos are segregated the furthest from land. The zones are clearly marked on nautical charts so that captains understand where the Port Authority directs them to anchor. But policing such a scheme for yachts would be an industry in itself, patrol boats would be needed with penalties for non-compliance. On the Riviera there are several no-anchoring zones, to protect either seabed features such as electric cables or nature reserves, or the swinging circles for large-ship mooring buoys as in Villefranche Bay, but the various maritime authorities here do not even manage to police these.
Another scheme often proposed would be laying moorings, and these exist to a small extent in the bays of Villefranche, Cap d'Ail (Mala), Port Cros and Agay. They are much used in coral waters to protect the delicate seabed from anchors and chains but the moorings need to match the size of the vessel using them, which requires more regulation. Finally, there is Dynamic Positioning, which uses computer-controlled thrusters to keep the vessel stationary. Very valuable for offshore oil drilling in very deep water but it uses expensive energy, too few yachts are fitted with it and a breakdown could be catastrophic.
Yacht-mooring is only a seasonal problem – after the summer most yachts disappear to refit or cross the Atlantic for the winter charter season in the Caribbean. While anchored off our towns, they provide a pleasant spectacle. Making more rules would only drive more owners out of the mega-yacht industry, especially as VAT is payable since July 15th on charters starting in French waters. So leave our yachts alone – at sea, in harbour or at anchor.